(no subject)
My contribution of ugly crap. Actually, I have lots of ugly crap. I am "lucky" enough to live with a confirmed pack rat so, my house (and shed) is filled with some truly ugly crap. But this is the stuff I immediately had on hand.
First, I assualt you with the ugliest thrift store purchase I have ever made. (Okay, there are those that might argue that
this
is my ugliest thrift store purchase, but I think they're wrong. *grin*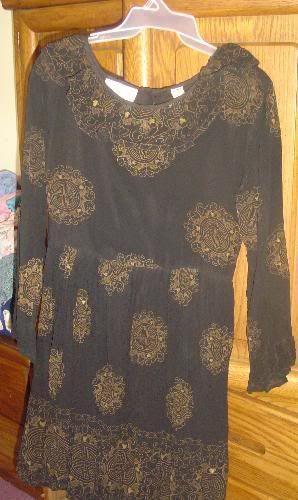 Note the lovely ruffles along the neckline and hem. Doesn't it just scream "pentecostal farmer's house wife"? Or wait, lets combine it with the asian motif that makes no sense. And I know you guys can't appreciate it, but it's made out of a terribly comfortable and skin rewarding material reminiscent of burlap. Not only that, it has the added feature of making whomever wears it look about 7 months pregnant. Who WOULDN'T want to wear this? I know that sometimes I have a hard time hooking up with the pregnant fetishists the inhabit the internet now that I'm no longer pregnant. With this dress, that problem would be a thing of the past!
Yes, years ago, I bought this. I saw it and thought that with the right shoes and tights, it would be adorable. Unfortunately, I forgot two things. One, I am not 7 years old and putting a little girl style dress on a woman with boobs and an ass is just a travesty against anyone that has is forced to see her wear it. In retrospect, I realize that $5 was way too much to spend on this. I will never wear it. Now why can't I get rid of it?
And then you have wedding gifts you can't get rid of: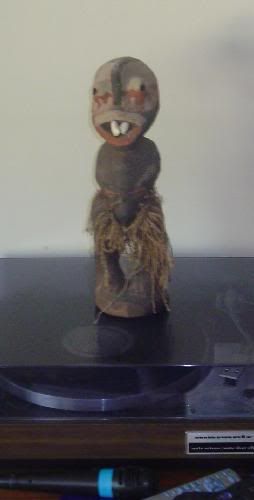 Our (my husband's and mine) best friend gave this to us a wedding present. He got it in New Orleans and it's supposed to be a house protector or something. If it is, it's merely because it's just that ugly.
The best part? It sits on our mantel where you are greeted by it as soon as you walk in the front door. It also scares my children. But it's a wedding gift. Made with horse teeth. You can't really get rid of something like that, can ya?
Plus, I like it. But it scares my mother.
Comments {6}